The Team
Mark B. Christensen – Owner/ Head Mastering Engineer
At age 16, Mark began touring in the mid-west doing his own progressive modern-rock material. At age 19, he began his production career. With a short stint in England, Mark also toured briefly with acts such as The Waterboys and The Clash while also producing numerous independent records. Mark eventually returned to New York City to work as a line producer at Soundtrack City. While working at Soundtrack City, he self-produced a demo which ultimately resulted in another record deal (generating another round of tours, this time with the likes of Radiohead, The Wallflowers and The Gin Blossoms). Mark is now the owner of Engine Room Audio, and is considered one of New York's highly regarded Mastering Engineers, working with hundreds of artists, labels and major corporations.
Selected Discography:
Trey Songz, Lloyd Banks, The Killers, OK GO, 50 Cent, Toni Braxton, Lady Gaga, Kyle Minogue and many more.
Scott Lee – Studio Manager
Scott Lee started his music industry career at Howard University as an Events Promoter. After graduating with a degree in Business & Finance, he went on to become a Road Manager, and then Manager to Capitol Records Recording artist Channel Live. In the process of making Channel Live's second album, Scott fell in love with the process of making records and gave up life on the road. In 1996, Scott become the Production manager for powerhouse production team: The Characters. Together, they worked on multiple Gold and Platinum albums by SWV, Johnny Gill, Tyrese, B2K, Brian McKnight, Petey Pablo, and Faith Evans. In 2005, The Characters disbanded to pursue solo projects, and Scott transitioned into Studio Management, coming to Engine Room Audio in 2006.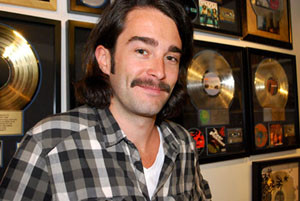 Dan joined our ranks as a Mastering Engineer in 2011. It was only in 2008 that he got his start in the music industry managing a recording studio while in college. Dan left his home state of North Carolina to work in NYC as an Assistant Mastering Engineer at Masterdisk. Since joining Engine Room Audio, Dan has sunk his teeth in some great projects, including mastering A$AP Rocky's mixtape LiveLoveA$ap. To book Dan for your next project, please contact Scott Lee at the studio.
Selected Discography:
Hella, A$AP Rocky, BOYFRNDZ, Trey Songz, I-Octane and many more.
Rachael Counce – Production Manager
Rachael Counce is a graduate from the University of Florida where she recieved her B.A. in Film and Media Studies. Originally from Corinth, Mississippi, she now lives is New York City and works as the Production Manager at Engine Room Audio.
Mark D'Souza – Marketing & PR Consultant
Mark D'Souza has a Bachelors in Economics from Arizona State University and graduated from the Conservatory of Recording Arts and Sciences as an audio engineer. As a musician, he has recorded on several albums and played in shows in Phoenix, AZ and New York City. As an audio engineer he has worked on albums of various genres with artists of various calibers in studios in Phoenix and New York City. He currently runs the marketing and pr division of Engine Room Audio.
Engineer Team:
Benoit Holliger – Mastering Assistant/Engineer
Gabriel Montesi-Garskof – Engineer
Joe Caravalho – Engineer
Sean Thompson – Assistant Engineer