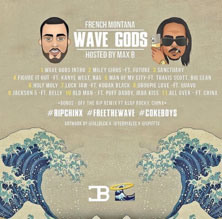 French Montana released his new mixtape, "Wave Gods" last Friday. The tape is hosted by Max B and was premiered on Beats 1 Radio by Dj Khaled. Anthony "AntMixIt" Daniel mixed tracks:
2- Miley Cirus- Ft. Future
3- Sanctuary
4 Figure It Out -Ft. Kanye West, Nas
5- Man Of My City -Ft. Travis Scott, Big Sean.
Dan Millice mastered tracks 4 & 5! All of the tracks were worked on here at Engine Room Audio.