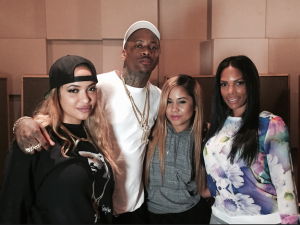 YG stopped by Engine Room Audio on Wednesday, June 15th to sit down with Angela Yee on her Lip Service podcast.  Later that night after leaving Engine Room, he made his sophomore LP "Still Brazy" available to stream on Apple Music.
YG is rarely outspoken and typically reserved but he shows more of his candid side on this episode of Lip Service. Listen to YG open up about touchy subjects such as marriage and child support, and also make sure you check out his new album. 
Lip Service is an entertaining twist to the traditional hip-hop podcast. Angela Yee and her friends bring an intimate element to their discussions with guests who tend to reveal more about the person behind the music. Hear more candid talk from some of hip-hops biggest names every week on Lip Service recorded here at Engine Room Audio.